Accessible Wearable Technology Hacks at evoHaX SE
evoHaX SE was two weeks ago and people are still reeling from the awesome technology and the innovative ideas produced by all five of the teams. The weekend long Hackathon, co-organized by EvoXLabs and Code for Philly to celebrate the Disability Awareness Month was a rousing success.
Benjamin's Desk provided their incredible space for the entire weekend, October 23-25, and Friday kicked off with an amazing panel discussion. Featured on the panel were artist and maker/blogger from Adafruit Industries Leslie Birch, accessibility consultant for Philly Touch Tours Austin Seraphin, Senior Vice President and CIO for Independence Blue Cross Michael R. Vennera, Founder and CEO of Glass-U Daniel Fine, and Founder of CreativeTechWorks Design Studio Jamie Bracey with Juliana Reyes, lead reporter from Technical.ly Philly, as the moderator. The entire panel was full of energy and there were excellent discussions about the practice and promotion of accessible design - basically the perfect way to start the weekend.
Last night, 40 civic technologists came out to kick off @EvoXLabs #evoHaX accessible wearable tech hackathon pic.twitter.com/NMPv20G2qe

— Technical.ly Philly (@TechnicallyPHL) October 24, 2015
On Saturday, after a brief introduction and an explanation of the rules from EvoXLabs' Founder Ather Sharif, and a Hacking 101 talk by Code for Philly's Executive Director Dawn McDougall, the five teams were assigned their subject matter and industry experts. The subject matter experts each had a disability of some kind, blindness, deafness, cognitive disabilities, mobility disabilities, or advanced age, and served to mentor their team in designing a wearable technology solution to solve one of the challenges they face. The industry experts were people who have had professional interactions with people with disabilities, and ranged from doctors to therapists.
Day 1 at the #evohax wearables Hackathon. Loving the coworking space @ Benjamin's Desk https://t.co/gLm6ezfWWg pic.twitter.com/LIJzoCH7Sr

— David Hindin (@DavidHindin) October 24, 2015
Sunday the teams continued working on their projects, putting on the final touches on their designs until the stop coding call was given at 1 pm. All the teams worked extremely hard and everyone was extremely excited to see what they had worked on. The judges included Leslie Birch and Austin Seraphin from the Friday night panel as well as CEO and Co-founder of ROAR for Good, Yasmine Mustafa and Neil McDevitt, who is the Director of the Deaf Hearing Communication Centre.
Here are the solutions developed at evoHaX SE: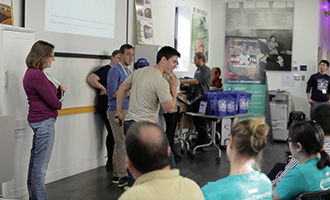 Team Blue Steel
The team Blue Steel was paired with subject matter expert Andrew Rosenstien who has Dyslexia and ADHD, and created an app for both mobile and Pebble Smart watches to track a user's progress as he does different tasks so he can better estimate how long it might take him to do something similar in the future. The app claimed to improve study skills through prioritization and time management.
The judges were absolutely blown away by all five projects and how hard the teams worked to produce such amazing results in just a short time. After the presentations were over the judges deliberated and then Tim Wisniewski, Philadelphia's Chief Data Officer, talked about the importance of civic hacking and the value it can bring to the city. Then he revealed the winners... The Red Team took second place and with it a set of Arduino Unos. Taking home first place and Pebble Time watches, donated by Pebble, was the Drexel Dragons with their canopy design.
The event could not have been pulled off without the amazing team of volunteers. The volunteers were a mix of professional tech enthusiasts and students from local universities. A fleet of extremely generous sponsors also supported the event including AccessComputing, smart watch company Pebble, and Independence Blue Cross, among others.
awesome pic of the team at #evoHaX that made the past few days possible pic.twitter.com/2jTB1wyZAJ

— David Hindin (@DavidHindin) October 26, 2015
Created: 11 November, 2015